HALO GALLERY
Haloes, mock suns, contact arcs and other optical phenomena




Two PARHELIA (MOCK SUNS) on each side of the Sun
1967 June 13, Sutton Valence, Kent, 8:25 p.m.
The sky was full of fine cirrus clouds.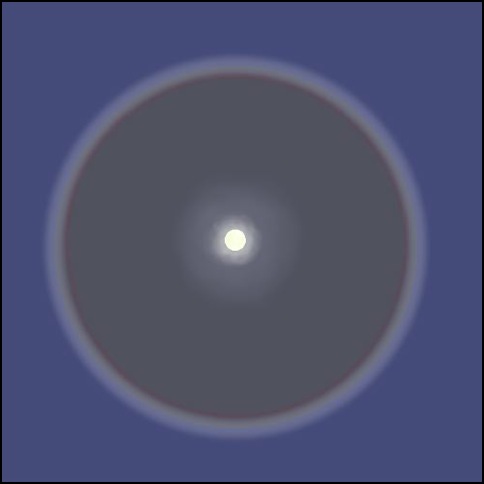 A LUNAR HALO of 22 degrees radius
1974 January 6, about 7 p.m., Sutton Valence, Kent.




A SUN PILLAR at sunset
1974 June 21, about 9:15 p.m., Sutton Valence, Kent.
The pillar, in tangled cirrus clouds on the horizon, was yellow and about 6 degrees high; it soon became shorter, and orange.




A LUNAR HALO of 22 degrees and a PARHELIC CIRCLE
1975 February 22, Sutton Valence, Kent.
An incomplete lunar halo, in nebulous cirrostratus cloud, became visible at about 9 p.m., later becoming complete. It showed a reddish tinge inside and a bluish tinge outside. The sides of the halo were broader and more diffuse. At about 9:50 p.m., a portion of a circle outside the left side of the halo became visible. At 10:05 p.m. the complete circle, except for that part which would have passed through the halo, formed. It lasted about 5 minutes.




A PARASELENE (MOCK MOON)
1976 May 14, Sutton Valence, Kent, 11:30 p.m.




Upper and lower ARCS OF CONTACT
1977 March 12, Headcorn, Kent.
The upper arc of contact was visible from sunrise to about 1 p.m. It was brightest at 11 a.m. The lower arc of contact was seen at 12;20 p.m., with a faint parhelion (mock sun) to the left of the sun. Extensive fine cirrus. The 22-degree halo was not seen.




A 22-degree SOLAR HALO, PARHELIA and ARCS OF CONTACT
1979 September 29, Marden, Kent.
The contact arcs and the halo were visible at 9:45 a.m. Extensions to the lower arc were seen at 10 a.m. The parhelia appeared at 10:10 a.m.




A 22-degree SOLAR HALO within a CIRCUMSCRIBED HALO
1982 May 30, Sunbury, Surrey, 1:30 to 1:37 p.m.
The upper part of a 22-degree halo became visible at about 12:30 p.m. as cirrus plumes invaded the sky. The halo became complete and bright at about 1 p.m. At 1:15 p.m., the circumscribed halo was faintly visible and steadily became more distinct. At about 1:35 p.m. the circumscribed halo was more distinct than the circular halo. After about 2:30 p.m. the halo slowly faded. The upper part was visible until an hour later. The colours of the upper and lower parts (especially the upper) were very bright and prismatic.




Partial 22-degree and 46-degree SOLAR HALOES and two CONTACT ARCS
1983 May 10, London, 6:45 p.m. (BST)




A LUNAR HALO, an UPPER CONTACT ARC and two PARASELENAE
1984 April 15, Marden, Kent, 12:28 a.m.
On the morning of April 14, at 8:23 a.m., two bright contact arcs were seen without a halo. The lower was measured at 23.42 degrees from the Sun, the upper at 45 degrees. At about 9:30 a.m. a 22-degree solar halo appeared. A lunar halo was visible for most of the evening. At 28 minutes past midnight (15th), it appeared as shown. The radius of the halo was measured at 23.4 degrees. The paraselenae were measured at 28 degrees from the Moon, which was 50.9 degrees above the horizon.




A PARHELION, a SUN PILLAR and an UPPER CONTACT ARC
1984 November 10, Marden, Kent, about 3:30 p.m.




A 22-DEGREE HALO, UPPER CONTACT ARC and PARHELION
1985 June 17, London,
The contact arc was visible at 8:15 p.m., and with the halo until 9:40 p.m.




An ANTHELIC ARC
1994 May 1, Tonbridge, Kent, 9:55 a.m. (BST).
The arc was directly opposite the Sun and about 30 degrees above the horizon; two cirrus plumes in an otherwise clear deep blue sky.


SITE GUIDE