Tornadoes in Britain: the 19th Century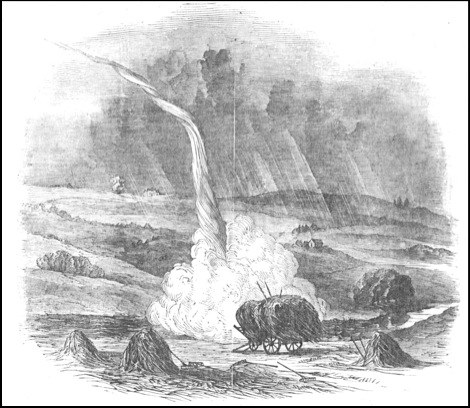 The New Galloway tornado, Kirkcudbright, Scotland, July 17, 1850

The 19th century was the heyday of natural history observation. British weather enthusiasts and local journalists of that era recorded numerous tornadoes, waterspouts, funnel clouds and fair weather whirlwinds. Nor did they hesitate about getting their observations into print. It seems strange therefore that the next generation of meteorologists should have decided that tornadoes were rare in Britain, when a glance through back issues of the Times would have disabused them. Most British tornadoes of the 19th century were (as now) alarming rather than dangerous, but there were several monsters which caused serious damage, death and injury. Nor were tornadoes restricted to terrifying rural hamlets. Large towns and cities were hit, including London and Dublin.



A Remarkable Whirlwind

"A most remarkable whirlwind" swept over Wishaw, near Glasgow, on the morning of September 4, 1801. It passed in a straight line through a farmyard, picked up a dog-kennel complete with two dogs, carried it over a hedge and dropped it 50 yards away. A young man who happened to be passing was knocked down but escaped uninjured. The whirl then left a track of broken trees 2 miles long and 100 yards wide.



The Diss Encounter

On December 14, 1810 a brief but powerful tornado destroyed several buildings in Old Portsmouth, Hampshire. Four days later, on December 18, another tornado visited Diss, in Norfolk, where it unroofed houses and tore trees up by the roots. As the tornado passed over Diss Common, it met with a post-chaise coach, which was overturned and "dashed to pieces". A gentleman and his wife inside received broken bones and bruises. Their child and a female servant were unhurt.



Motion in the Clouds

A violent hailstorm swept Bonsall, in the Peak District of Derbyshire, at 5 pm on May 12, 1811. Afterwards, lumps of ice up to 12 inches round were measured. During the storm, a "singular motion' was observed in the clouds; one assumed a serpentine form and extended itself down to touch the ground. There it became a violent tornado up to 500 yards wide. On a track six miles long, large trees were torn up and carried for 30 yards; the tops of other trees, twisted off, flew for up to 100 yards. Cows were lifted out of one field, dropped in another, and injured by their fall. Lighter objects did not fall but were driven into the ground.



Violent Agitation

A correspondent to the Gentleman's Magazine described a spectacular funnel cloud at Marsden, near Huddersfield, which just failed to attain tornado status on August 15, 1815. White, fleecy clouds, violently agitated, swirled around a dense black inverted cone which nearly touched the ground. The funnel, or "spout", seemed to be smooth, round, and hollow inside. The correspondent said he saw a "stream of water" running down the inside of the spout, which was then carried up outside very rapidly in a spiral motion.



A Vast Pillar

People working in a field at Wyberton Fen, Lincolnshire, on July 18, 1828 watched as a tornado gave a remarkable display of levitating power. A column seemed to descend from the clouds, and a similar cloud shape rose from the earth to meet it. The two met, and formed a vast pillar 40 yards wide, joining the earth to the clouds. There was a sound like the discharge of artillery. The vortex lifted a heavy cart, carried it 40 yards, then threw it violently to the ground, so that the shafts penetrated four feet into the earth. An "amazingly heavy" 4-horse roller, used to level ploughed land, was then lifted and carried for 20 yards. As a parting gesture, the tornado plucked a large apple tree out of the ground and carried it off.


A Fatal Waterspout

On August 17, 1831, according to Hadyn's Dictionary of Dates, which mentions it almost casually, occurred one of the most deadly tornadoes in the British Isles. A "waterspout" passed over John Macarthy's farm at Glanflesk, Killarney, Ireland, and killed 17 people. Several buildings were destroyed.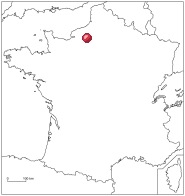 The Horrible Street

On August 19, 1845, less than 200 miles from London, a monstrous vortex rivalling anything the New World could produce touched down on the River Seine near Rouen in France. The waterspout raised a huge but brief plume of spray before it left the river and became a tornado, smashing through the steep wooded banks to follow the valley of the tributary Cailler. Already the track was becoming erratic, sometimes moving along the edge of the steep valley and sometimes dipping into it. It was also becoming wider, from 10 metres to 100 metres. Two small mill towns, Malaunay and Monville, were in its path as the vortex reached its maximum width of 300 metres. At Monville, three large paper mills were destroyed in a few moments. Hundreds of workers were killed. After this the tornado climbed the river slope into forest land, and destroyed every tree in its path along a wild zigzag 'horrible street' a few kilometres long. Then it lifted back into its parent thunderstorm, but boards, paper and other fragments fell out of the cloud up to 30 kilometres away.



Broken Glass in Dublin

Just after 3 pm on April 18, 1850, storm clouds appeared to the south-west of Dublin. Towering cumuli massed together as they drew nearer, with a cirrus anvil rising up behind. About 3:30 pm, vivid lightning began, and soon thunder roared continually. Some observers said they saw two strata of clouds with opposing electrical charges, with lightning strokes passing between. At 4 pm, rain began, then hail; then came the tornado. Pigeon's-egg sized hailstones whirled in the vortex, and the noise was "terrific". It seems that the tornado touched down in the park of Trinity College. There 19 trees were uprooted, 10 from the south-east and 9 from the north-west. Elsewhere, buildings were unroofed and chimney-stacks felled. The tornado and hailstorm between them broke 388,635 panes of glass, and the cattle broke loose from the annual show. Two minutes later, all was past. The wind fell to a gentle breeze, and the weather became 'beautiful'.


The Fearful Vortex

On July 17, 1850, a violent evening thunderstorm burst over the little town of New Galloway, in Kirkcudbright, Scotland. During the storm, a large funnel appeared in the clouds, and hovered over the town for some time. It then moved south, and after a mile or so reached down to the River Ken to become a waterspout. The spout rapidly went upriver, which boiled and seethed beneath it, with spray swirling 60 feet into the air. A twisting column became visible above the spray, rising and coiling like a snake among the clouds. The whirlwind which seemed to accompany the waterspout caught a loaded haycart and drew it toward the cauldron on the river. The terrified horse struggled in vain to resist, until onlookers rushed forward, and with great effort dragged the horse and its load from the grip of "the fearful vortex".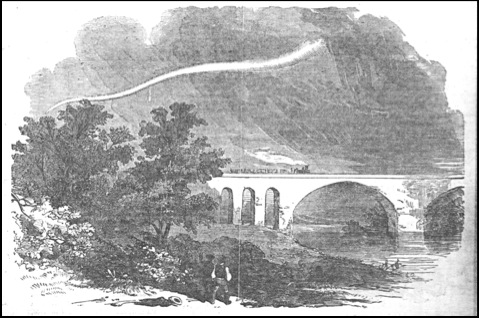 Funnel cloud over the River Thames at Maidenhead, Berkshire, June 14, 1853


British tornadoes seemed to take a leap in intensity in the second part of the 19th century. A 400-yard wide tornado at Marlborough in 1853 and the devastating Wiltshire tornado of 1859 showed what was to come. The peak appeared to afflict the 1870s. There were fatal tornadoes in Hampshire in 1876 and in Hertfordshire in 1877. Even a Welsh land devil in 1879 killed a sheep, which was lifted to and fell from a great height. Things seemed to calm down after this, though the century went out with a damaging tornado in London in 1898.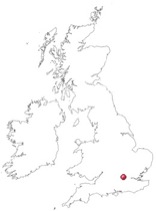 Rapid Spiral Motion

1853 June 14 The second half of the 19th century started with a spectacle. At Maidenhead in Berkshire, the day had begun fine, but large thunderclouds formed in the afternoon. One had just passed beyond Maidenhead Bridge over the Thames. It was an unremarkable storm, with occasional lightning and muttering thunder, until against its darkest part a vast pale horizontal cylinder appeared. E. E. Kay, who observed it, and whose sketch appeared as an engraving in the Illustrated London News, said that the thing was about a quarter of a mile long. The tip which tapered to a point, came within 60 feet of the ground, but did not make contact. The whole cylinder showed "rapid spiral motion". After 15 minutes the cylinder detached itself from the thundercloud, and, still whirling, slowly faded away.



War of the Elements

1859 December 30 A thunderstorm which would have been exceptional in the height of summer struck Wiltshire on the penultimate day of 1859. At about 1 pm, near Calne, the sky became so dark lamps had to be lit. Clouds became thicker and heaver, then were illuminated by a barrage of lightning. Huge hailstones began to fall "thick and fast". One which was measured three hours after it fell was nearly two inches long. Mingled with the thunder came the roaring of a mighty wind. A "regular tornado" touched down near Borwood-park and moved WSW to ENE for six miles to Yatesbury. The vortex was up to 150 yards wide. Outside the boundaries of its track nothing was injured. Within, thousands of trees were shattered or uprooted. Buildings in the storm's path were unroofed, and some cottages partially destroyed. People just outside the path of the tornado said that during the two or three minutes it took to pass, "the war of the elements was so awful and overpowering…that (they) heard nothing of the crash of the trees around them." Many people were injured, but the only fatalities were among partridges and hares. The Duke of Beaufort's hounds killed a fox during the storm, but they were not near the path of the tornado.


A Black Cloud

1862 May 7 This May afternoon was hot and oppressive in the village of Beaconfield, near Newark in Nottinghamshire. A Captain Lowe, out with his regiment about a mile away, experienced a hailstorm with stones almost 2 inches round. In the distance he saw a dense black cloud extending a tapering point down to the ground. At the same time in the village a Mr Stevenson saw another curious sight. Sheep and cattle were running in terror from the SSE, and in that direction a strange dark wall of cloud was rapidly approaching. The suddenly chilly air was filled with a cloud of hay, straw, twigs and horse-chestnut blossoms; then came an indescribable roar, and a "furious blast" felled and uprooted huge trees and seemed about to destroy the house. This lasted only a minute, and was followed by torrential rain and lightning. E. J. Lowe, the Captain's brother, investigated the storm, and had no qualms about calling it a tornado. The track was 3 miles long and up to 150 yards wide.


A Gyrating Wind

1865 August 24 A thunderstorm over London which began in the evening lasted all night. Torrential rain fell. Near Barking a market gardener's wagon was struck by lightning, and the two horses were instantly killed. At about 6 pm, in Dalston, "a wind, violently gyrating in small circles" was seen. Dust and small objects, including several hats, swirled about the vortex. It passed over a temporary church made out of wood roofed with iron sheets, and wrecked the building, The iron sheets, twisted into strange forms, flew through the air, and a small boy, struck in the back by one, was badly hurt.


The Force of a Tornado

1868 September 27 On this Sunday morning, "an eddy of wind…with the force of a tornado" terrified the village of Tuddenham in Suffolk as it passed beneath black clouds and in a swirl of dust and debris. It felled many trees and blew out the windows of the church. The congregation had not yet arrived, so no-one was injured. One man was lifted into the air and carried a considerable distance until a high fence halted his flight. The village policeman met the tornado, and, encountering a force "which even policemen are unaccustomed to", was knocked down and rolled over and over. At Thriplow in Cambridgeshire, a morning school was sheltering from a thunderstorm when a sudden hail shower fell. Then there was a roar, a cloud of dust and leaves was seen whirling in the air, and a group of tall poplars nearby went down instantly. The students huddled inside the school as both ends of the building were blown out. No-one was hurt.



A Strange Prank

1868 December 27 The Reverend W. Barclay, a Church of England clergyman, was walking in the Mendip Hills of Somerset on a windy day when he happened to look behind him. He noticed an odd 'ribbony cloud' about 200 feet above the ground, which was 'gyrating like a misty corkscrew' and heading directly toward him from the South. The Reverend gave it little heed, as he knew that "mists play strange pranks in these hills," and continued his walk towards Axbridge. Suddenly there was a roar behind him, and a great rush of wind struck him in the back. Barclay was carried along, with feet that "scarcely touched the ground," for about a hundred yards, then thrown down and rolled over several times. He was dazed, bleeding, covered with mud, and saw his hat vanishing into the distance. He collected his wits after a while and eventually continued, in considerable pain, to Axbridge, managing to recover his hat after walking half a mile.



Awful Whirlwind

1871 July 30 Another Sunday morning storm assailed the little village of Chilton in Buckinghamshire with thunder, hail, and an "awful whirlwind" at 5 am. An old man in bed escaped with a fright when the roof of his house and the side down to the bedroom floor suddenly disappeared. In front of his house a wagon loaded with two tons of hay, together with an old blind cart horse, was carried over a hedge. Another wagon disintegrated, and the four wheels were found in four different fields.


Narrow Escapes

1875 June 12 At 1 pm a brief thunderstorm passed over the town of Baldock in Hertfordshire. As it departed with a last rumble, a low dark cloud was seen in the south-west, approaching with alarming speed. It seemed to be in the form of a horizontal hollow spiral, with a whirling tail which reached down to the earth. Around the tail the air was full of dust, slates, stones, leaves and branches. In a few moments the whirl was past, leaving behind a smell of sulphur. Trees were uprooted along the tornado's curving track, and one or two people "had a narrow escape".



A Sound from the South

1876 September 28 At about 7 am, many inhabitants of Cowes, in the Isle of Wight, heard a curious "low moaning sound" coming from the south. A man aboard a yacht moored in the estuary heard it also, though he said it sounded like escaping steam. He looked towards West Cowes, and saw a cloud of debris 300 feet high moving through the town. A minute or so later, almost every house in West Cowes had been damaged, and some destroyed, by a tornado. Many moored boats were filled with bricks and sunk, and one brick landed on the deck of a steam yacht a mile offshore as the tornado became a waterspout and headed towards Hampshire. It became a tornado again between Titchfield and Portsmouth. Scores of trees were uprooted and iron troughs carried a quarter of a mile. There were no fatalities in Cowes, though several people received broken limbs and cuts from flying debris. In Hampshire, a man was killed and a boy badly injured. There was another tornado the same morning at Marsh Gibbon in Oxfordshire. It uprooted trees and took off roofs with the sound of "several trains in motion."


A Cloud over the Sea

1884 July 20 This was an overcast summer Sunday by the sea at Southwold in Suffolk. The sky was strangely disturbed, with pale cloudlets scudding in various directions before dark looming masses moving out to sea. The wind at ground level blew erratically, also changing direction every few minutes, while the cloud fragments above now seemed to be crossing each other's paths "with extraordinary rapidity". Then, from a dark cloud over the sea a long black streak shot downward and struck the water. For a few minutes the waterspout was a thin line swaying from side to side; then, as the vortex intensified, it became a huge black vertical pillar, flaring out where it joined the clouds. At the base, spray whirled hundreds of feet into the air, visible even from several miles away. As the spout retreated, it lost its grip, lifted from the sea, and became again a thin wavering line. "Fortunately, as sailors were remarking, no ship was near at the time."



'He'

1896 September 20 On this Sunday afternoon the appropriately named yacht Cyclone was in the Thames Estuary off the Isle of Sheppey. The crew were watching a rain squall with lightning move away to the east when a cry from the helmsman called attention to a "very terrible danger". On the port bow a circle of spray about 20 feet wide was seething upon the surface of the sea and revolving rapidly in a clockwise direction. There was no funnel, and no cloud of spray, only twisting white columns that swirled around each other. It seemed to the crew a "living, sentient and evil thing", and one hand referred to the whirl as he. However, he passed 200 yards from the Cyclone, and though he alarmed several other yachts and an excursion steamer as he passed out of sight, no damage was done.


A Small Tornado

1898 October 29 During heavy rain and strong wind, "a terrific squall, resembling a small tornado" swept from ESW to WNW over Camberwell Green in south London. Vehicles were overturned, trees uprooted, and buildings damaged.


Tornadoes in the 18th Century


SITE GUIDE