All illustrations © Christopher Chatfield




MAXINE BUHLER PHOTOGRAPHS A TEXAS TORNADO
30th April, 1947



THE SELSEY TORNADO
Selsey, Sussex, 8th January, 1998. The funnel is approaching the coast as a waterspout.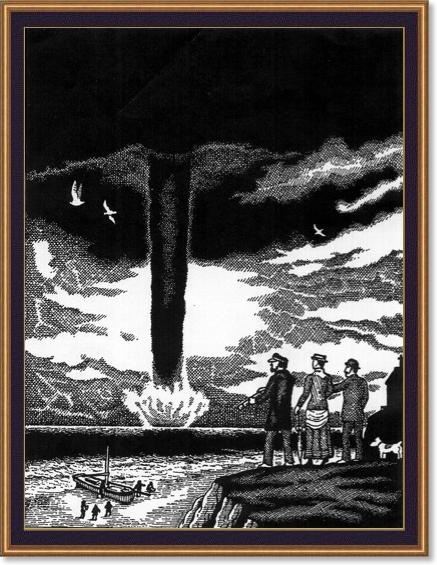 'A WATERSPOUT OFF THE ENGLISH COAST'
Southwold, Suffolk, 20th July, 1884


THE KNIGHTS' NEMESIS
A giant tornadic waterspout bears down on the war fleet of the Knights of St. John in Grand Harbour, Malta, 23rd September, 1556. Many vessels were sunk and others thrown on the shore. Over 600 knights, soldiers and slaves were drowned.



THE MONSTER OFF MARTHA"S VINEYARD
A huge waterspout, 3,600 feet high, off the coast of Massachusetts, 1896 August 19. See here



BECALMED




INSIDE THE TORNADO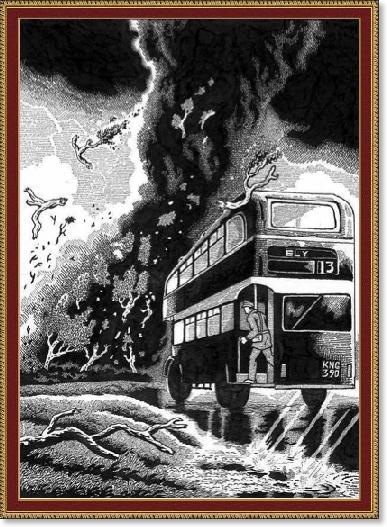 TORNADO IN EAST ANGLIA
21st May, 1950



CELEBES SEA DISASTER
The clipper ship Wasatch was struck by a waterspout in the western Pacific. Her masts were torn out or snapped off. 11 of the 25 crew survived.



THE COIL
A waterspout off New South Wales, Australia, 1894 August 18



TORNADIC WATERSPOUT ON LOUGH NEAGH
August 25, 1872




'WHIRLY-HUFF'
A dust-devil on an English road, July, 1793
"During the late hot weather...I have frequently observed upon the high road, a large quantity of dust suddenly whirled up in the air a considerable height (fully as rapidly as if it were caused by a hurricane)...I one day asked...some people at work, what they thought of this kind of thing, or what they called it. They said it was only a whirly-huff...I never observed anything of the sort except in the hottest and most serene weather." ('A.Z.', Gentleman's Magazine, 1793)




LUCILLE HANDBERG PHOTOGRAPHS THE JASPER TORNADO
July 8th, 1927. See here.




A TORNADO STRIKES LONDON, October 21, 1091
(Shown on the Pioneer Productions/Channel 4 documentary, Is Our Weather Getting Worse?)




IRA BLACKSTOCK PHOTOGRAPHS A KANSAS TORNADO
Hardtner, Kansas, 2 June, 1929. Ira Blackstock said, "The approach of the tornado was clearly seen and I was able to make a kodak snapshot of the funnel cloud at a distance of less than a mile from its path".




FUR TRADERS AND THE TORNADO
With apologies to G.C. Bingham




FIREWHIRL
Climping, Sussex, 11 September, 1978. Two stubble fires met, creating a fire-vortex 70 metres high which travelled 200 metres in three minutes. Fragments of burning debris set fire to and destroyed four thatched farm buildings




FUNNEL
Oil paint on canvas paper


SITE GUIDE